Art That Catches the Eye
Decorative art is a fantastic way to transform a space, and Joan K Design offers designs that are sophisticated and elegant. We provide friendly, reliable services throughout much of the Northeast, and wherever the work will take us.
Custom Stained Floor
Our owner founded this company in 1989 with the thought in mind to combine her years of business experience with her passion for art. Now, almost 30 years later, her combined passion has not only gained recognition for herself, her company, and her staff, but it has even broadened her clientele.
| | |
| --- | --- |
| C.C. Ceiling | Comm'l Lobby/Walls and Elevator Doors |
We work predominantly, but not solely, with interior designers, architectural firms, builders, and contractors. Our expertise is focused on using unique and creative solutions to accomplish cost effective procedures for solving decorative and construction problems. We can paint or decoratively treat almost any surface!
| | |
| --- | --- |
| Boston Store Front | Strie Walls, Published Dining Room |
We understand working collaboratively with other contractors is vital in making your schedule stay on course. We also understand the importance of working with interior designers and any trades people involved in your project to produce the best possible product.
Our repeat clients have come back because we have provided the highest level of materials, creativity, and satisfaction to accommodate their needs and desires. Joan K Design's fees are variable depending on the extent and specifics of the project. The fees are discussed in detail during the initial consultation.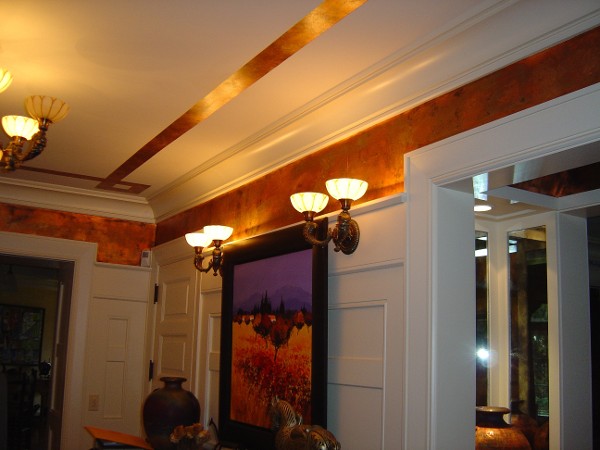 Acid Treated Copper Leaf